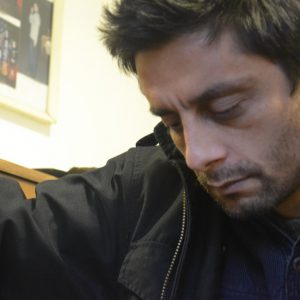 The twentieth and twenty-first centuries have witnessed an extraordinary and almost indefinable cross-fertilization among artistic disciplines and styles. New technologies have facilitated new ways of creation and new ways to present works to audiences. Much of this activity has occurred in the theater, and some of the most impressive achievements have included a significant role for music, for instance Karlheinz Stockhausen's Licht cycle (1977–2003), John Cage's Roaratorio (1979/1983), and the so-called video opera of Steve Reich and Beryl Korot, Three Tales (2002). The creative activity of the Serbian composer and artist Alen Ilijić—and in particular his most recent project Ongevarfen ("Disordered"), which takes as its departure point homage to Arnold Schoenberg—belongs to this tradition but extends it into altogether new terrain with respect to both theater and technology.
Indeed, Schoenberg's life and work present a congenial, albeit preliminary, introduction to Ilijić. Schoenberg engaged deeply in the artistic movements of his time—he was for a time equally committed to both painting and music—but he never turned his back on the world he lived in. He was a Jew living in the twentieth century, and he lived through the horror of the rise of fascism and World War II. He was also wholly committed to the establishment and safety of the Jewish state, and his return to Judaism was borne out of a genuine revulsion for the evils of the world around him and a feeling of certainty that he needed to make a profound connection with his heritage.
Ilijić, too, engages deeply with the artistic movements of his time, but in ways that Schoenberg could scarcely have imagined. After studies in as well as composition (including film music), orchestration, electronic music, and sound engineering, he worked in London as a singer–songwriter and guitarist. His band Zealot greatly affected artists involved in experimental rock and noise of the 1990s. In the music that followed, he has continued to make use of the techniques and gestures of his work with Zealot, but integrated these with more varied post-tonal materials. Like Schoenberg, Ilijić also works in visual art; whereas Schoenberg felt he had to make a decision between art and music, however, Ilijić's work includes extensive and ongoing activity in visual art, which in turn informs and is informed by his music and his performance. And Ilijić's profound Jewish faith, as expressed in his work, speaks out against new and almost unthinkable acts of destruction and bloodshed as new forces of extremism stand poised to threaten world peace again.
Indeed, it is in performance that the various strands of Ilijić's work coalesce, and through which a most important connection with the artistic present can be made. The forcefulness and extraordinary range of his work emerges most clearly when one sees him perform, as in the recent work Red Faces, most recently staged in January 2016 in Tel Aviv. He makes use of his entire body during the course of the twenty-minute work. At first, he stands silently, sometimes moving his arms in wide, elegant gestures; his hands execute complex rhythms on the piano case; the music alternates sweeping glissandi, slower and lyric melody—often doubled by his voice in the extreme upper register—and violent, often disturbing stabs of sound and tortured passagework. In involving so much the visual element of performance with his body and stage lighting, Ilijić suggests parallels with classic and recent work in performance art, but his expertise in music and visual art creates a more holistic union of the various components.
Audiences may find some of the work troubling, but can respond to this music because the force and ineffable authority of his artistic personality demands complete attention; like Schoenberg's free atonal compositions, Ilijić's music is guided by an unerring intuition, revealing unexpected connections among the wide variety of utterances that mark the extraordinary richness of the total musical world available today. But, like Schoenberg, Ilijić has forged from the materials around him a new and consistent world entirely his own—what's more, his engagement in visual art, performance, and theater promises a renewal worthy of the great multidisciplinary works I mentioned above, but one that exceeds the sum of its parts because they all originate the single source of his inspiration.
http://www.robhaskins.net/wp-content/uploads/2014/08/rob-300x137.png
0
0
Rob Haskins
http://www.robhaskins.net/wp-content/uploads/2014/08/rob-300x137.png
Rob Haskins
2016-04-06 20:59:02
2016-04-06 20:59:02
A New and Consistent World Entirely His Own