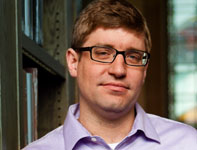 As I've said before, I attended the Eastman School of Music at a time when there was an embarrassment of riches for contemporary music. My graduate and undergraduate colleagues read like a Who's Who of new music: a short, incomplete list would include Alan Pierson, Stefan Freund, Payton MacDonald, David Crowell, Caleb Burhans, Hannah Lash, Kala Pierson, Kevin Puts, Seth Brodsky, Jeremy Grimshaw, Guy Capuzzo. And the list of ESM professors devoted to new music is just as impressive, including Robert Morris, Brad Lubman, Robert Fink (now at UCLA), and Martin Scherzinger (now at NYU).
I say this only to offer full disclosure; since I review new music, I'm bound to run into these people over and over again. This disc includes two other ESM friends, Mathew Fuerst and David Riley. I always had a special place in my heart for Matt, who's not only a friend but a pianist and a composer—I followed a similar path but took a decisive turn into musicology. And since he's a friend I will also drop the formality of referring to him as "Fuerst."
He finished his education at Juilliard, studied composition with Robert Beaser and John Corigliano there (and earlier, at Eastman, with David Liptak, Christopher Rouse, Joseph Schwantner, Sydney Hodkinson, and Augusta Read Thomas); oh yes, and he studied piano with Alan Feinberg. His music is a model of what Susan McClary argued for in her essay "Terminal Prestige"—it balances novelty with convention and aims to arouse emotions in the listener, to move and excite zir.
The release spans a ten-year period, from the early student work Sonata-Fantasie No. 1 (2001, the year he earned his Master's) to a third violin sonata completed in 2011. The former piece is exuberant and youthful, beginning with a dramatic and extremely dissonant gesture intermittently leavened by a less stringent idiom whose passagework reminds me, from time to time, of the first movement of John Adams's Violin Concerto. In the exciting finale from the third sonata ("Moto Perpetuo")—probably my favorite track from the disc—he presents a dizzying array of triadic harmonies that constantly and surprisingly shift as the result of parsimonious voice-leading. (He probably doesn't know this, but it reminds me of some of my own music from the late '80s, with the exception that Matt has a better grasp of form, variety in figuration, and composition than I ever did.) I sense in this work, as I do in the 2009 piano solo The Drift of Things (which Matt plays himself, and brilliantly so) the kind of excitement that sometimes comes from a composer who's also an active performer.
The other compositions show a marvelous expressive range to his work. The brief "Aphorism" from Sonata-Fantasie No. 2 (2003) is a kind of updated Webern miniature, though not at all as dissonant and ascetic. A series of single, plaintive pitches in the violin are punctuated by left-hand sonorities in the lowest register of the piano; finally, out of nowhere, the piece ends as the right hand of the piano outlines an ascending whole-tone scale on B-flat. It doesn't sound anything like what's come before but it makes for a wonderful ending.
Wood and Riley have been playing Matt's music for a long time and it shows. Their performances make the music sound like Brahms or Beethoven, it seems that familiar and also that nuanced. Albany's sound is fine. Here's a link to the recording at their website.
http://www.robhaskins.net/wp-content/uploads/2014/08/rob-300x137.png
0
0
Rob Haskins
http://www.robhaskins.net/wp-content/uploads/2014/08/rob-300x137.png
Rob Haskins
2016-06-12 15:31:37
2016-06-12 15:31:37
CD Review: Mathew Fuerst: Works for Violin & Piano—Jasper Wood, violin and David Riley, piano (Albany 1530, 2015, 49 minutes)